11 psychological tricks to build confidence in 2021 | how to build self confidence
Psychological tricks to Build Self Confidence. Do you ever feel as though everyone around you is confident and certain about themselves? Well, the truth is they probably have self-doubts just like you.
The question is, what's their secret? How do they manage to exhibit such great confidence? The answer is, "No one is born with 100% confidence".
It's something you have to learn. Yes! There are some things you can start doing right away, and within no time, you'll realize you're more confident than ever.
Being confident is not just believing in yourself. It's accompanied by being certain you can accomplish anything and believing you are deserving.
In this article, I will share with you 11 Psychological Tricks To Build Confidence And How To Build Self Confidence.
Three principles of confidence
Let's start by sharing the three principles of confidence. These principles form the core of building a confident man. According to Tony Robbins, they include "Body language, Positivity, and a Growth Mindset". Tony Robbins states that mastering your body language is the first step to success.
By working on your posture and getting your breathing in check, you will exude confidence and trick your brain. As for positivity, we all know that changing your focus can affect your reality.
By telling yourself positive statements, you will eventually start seeing the bright side of situations. By telling yourself positive statements, slowly, you will change your state of mind and eventually change your state.
The Third core principle to confidence is the "Growth Mindset." Sometimes confidence stems from success. so when you achieve something, your confidence levels grow. Now that I've shared the three principles of confidence with you let's get into the things you can do right away. To trick your brain into being more confident.
Psychological Tricks To Build Confidence (How To Build Self Confidence)
1 – Overcome Your Limits
In many cases, most people who aren't confident don't love themselves. As a result, they end up with limiting beliefs and doubts about what they're capable of.
These new traits are adopted subconsciously and end up controlling their everyday lives. The result is someone who self-sabotages all the time and constantly reinforces these beliefs.
Such a person is incapable of achieving much in life, as they have their limitations set. The key is to start expressing love for yourself.
This could include incorporating habits that build you appreciate yourself by acknowledging any small achievement and even, if possible, gifting yourself. By creating a self-love culture, you will be able to break your set limitations and build your confidence.
2 – Speak Up Yourself
The same way body language can help exude confidence speaking up for yourself can do wonders. Be willing to say no to things that you don't want. Take credit for your achievements at work or school.
See many confident people end up successful at work because they're ready to speak up. They will tell their bosses when they feel they deserve a pay raise. They will apply for that better-paying job because they feel they deserve it.
They will also mention their achievements to their CEO. by doing this, and they're also building more confidence, so start speaking up for yourself today.
3 – Understand Your Top Human Need
One critical step to building confidence is to determine your most important human need. The need is what drives your decisions.
All humans have six needs: "Significance, Variety, Love, Growth, Contribution, and Certainty." every one of us values some of these needs more than others. If your most valued need is certainty, you will feel unsure in unknown situations.
If your most valued need is "Significance," you will be insecure if you don't get the recognition and validation you seek. Multiple online quizzes are free and will help you determine the needs that matter most to you.
Once you discover your needs, you will identify what could be affecting your confidence levels. This awareness will help you know where some feelings could be stemming from, and you will be able to deal with them accordingly.
4 – Improve Self-Talk
Our thoughts translate into emotions, and emotions become our actions. If you're not confident, it could be a result of what you tell your thoughts. But how do you control your thoughts and self-talk?
The first step is to control what you consume. If you add more inspirational content for consumption through books, videos, or images, you will create a new thought train.
The next step is to determine how you talk to yourself. How do you communicate with yourself when alone. Be mindful of what you tell yourself. To determine if what you say is positive or negative.
5 – Body language
I mentioned body language previously, but we never really got into details about it. There are a few things you can do with your body to exude confidence instantly.
Square your shoulders, open up your chest, take deep breaths and maintain powerful brisk strides as you walk. By maintaining this posture, you will start feeling stronger, and your mind will be more confident.
When talking to someone or doing a presentation, you can use either of the power poses scientists have proven that some power poses. Release Serotonin in the body. "Serotonin is the chemical substance that's responsible to build self confidence."
6 – Practice gratitude
When you are grateful, fear disappears and is replaced by abundance. Every day take a moment to appreciate yourself and your surroundings. Find things around you to be grateful for.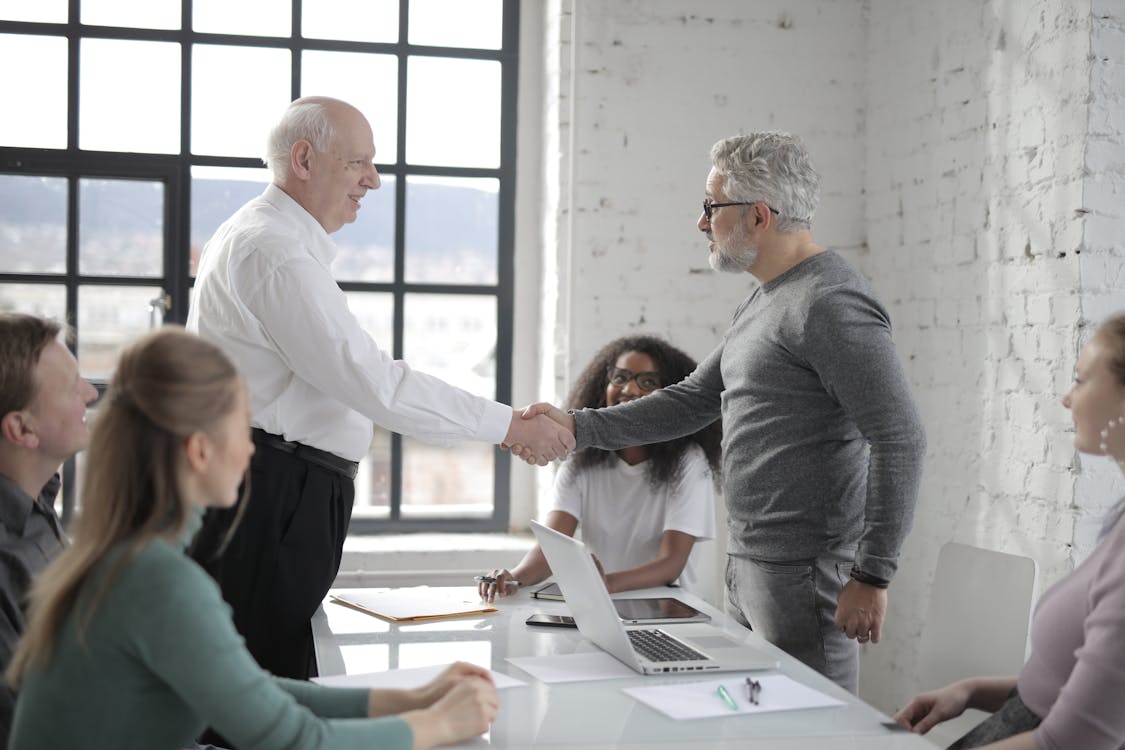 Start by creating a list of things that you are grateful for and read them often. Stop thinking of your body as a vessel just to be admired. You are much more than that.
Take every moment to appreciate all your body does, and it lets you do. You will slowly start to feel more like a gift, and confidence will follow suit.
7 – Keep a list of successes
There's one routine I started three years ago, and it has helped me. At the beginning of every year, I get an empty jar, and then at the end of every year, I write a bunch of things that I'm grateful for.
These small notes will then be put inside the jar, and I'll open it at the end of the year. By doing this, I'm able to keep a record of every small achievement I've made.
You will be surprised by how much you achieved and forget. Every time you're feeling low, you can open this jar and read some of the things you wrote down. This will build your confidence and help you get out there and strive to achieve more.
8 – Use goal visualization
Visualization is one of the core practices of confident people. While it may sound complicated, you'll be surprised at how easy it is to do.
The first step to take is to get a quiet place in a conducive environment. This could be anywhere, even your bedroom.
The next step is to sit down and clear your mind of anything that could be bugging you. Once you're at peace, start visualizing yourself at your highest. This could be you in that job position you desire or in that house you want.
This could be a visual of literally anything you want to achieve. Take a few minutes to simulate how you would feel once you're there. It's so important to do this because you tell your brain you've already accomplished whatever it is you visualized.
By doing this, you'll slowly start believing you can achieve anything you set your mind on. That's where the confidence kicks in. most people say they get results after a couple of weeks of doing this. I love to practice this with some good music in the background.
9 – Eye contact
Do you get nervous when talking to people? Are you the type to stare into the walls when making presentations? Well, if you are, this point is for you. Making eye contact is the most underrated way of building confidence.
While it may be uncomfortable at first, you'll slowly grow into the habit of making eye contact with whoever you're interacting with. You're building a stronger bond and, at the same time, exuding confidence.
See, when you maintain eye contact, you're able to read the other person's reaction first-hand. You're able to tell their reaction to what you're saying, whether they agree or disagree, and you'll be able to induce their reactions through eye contact.
Most people who lack confidence often tend to shy away from looking at other people, and that's where they go wrong. by doing this, they aren't able to read the room or rather the other person.
This uncertainty induces more uncertainty, making them even more nervous. Next time you're having a conversation, stare your partner right in the eye but don't make it awkward.
Try to maintain the 80/20 rule. Where 80 percent of the time you're meeting someone's eyes and 20 percent of the time you're focusing on something else.
10 – Live in the present
Here's the deal we all go through challenges in life. Sometimes we lose, and sometimes we win. Sometimes people will wrong us, break our trust or disappoint us, and we can also disappoint ourselves.
But we shouldn't carry around burdens. What happens when we drag our burdens with us is that it shows in our behaviour. It's important to let go of the past, whether it's a failed relationship that brought down your self-confidence or any tragedy. We need to let go of the past and embrace the present.
When you're preoccupied with trains of thought, it's almost impossible to be present and exude confidence. Embrace you are now living in the present, and confidence will find its way to you.
11 – Practice
Once you've done all this, it's now time to test yourself. Whenever there's a public speaking opportunity, maybe at your place of work, volunteer to do it.
Put yourself out there more often by attending events and going out and attending anything that will require you to interact with other people. It's through this interaction that you get to practice your confidence skills.
With time you'll be great at it, and the old you will be a thing of the past. There are also several platforms, such as toastmasters, that train people on public speaking matters. Such platforms train you and allow you to grow in confidence.
As you do all this, remember never to be afraid of failing. You might stutter or embarrass yourself, but that shouldn't define you. If this ever happens, get yourself out there again and try again.
Rome wasn't built in a day. That's it for today.
Now You are Confident Right? Thank you so much for reading.